It's 6 pm, somewhere on the high street Kapong. People (mostly Thai) are walking cosily alongside the stage, suspecting nothing. The level of excitement of me and the other band members rises with every second. We all know, that it is time soon, but none of us knows exactly when. I get a small box of fried chicken and a bottle of water (warm, to keep my voice on stage later). Somehow, I can reduce my nervousness by eating this tasty chicken. As I sit down on a staircase next to the stage Kru Kim (our Bandleader) waves his hand into the air. The last song is now played by the school band.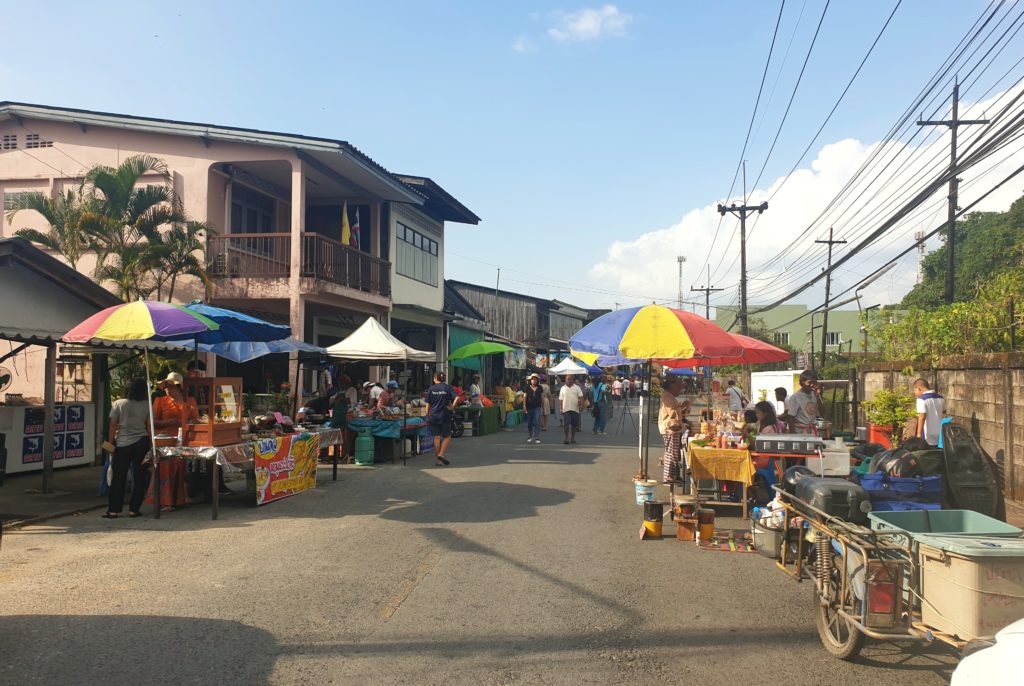 Finally, Kru Chong announces the "Impossible Band", a band name that is not longer suited for us. We stride onto the stage. One last time all the instruments are tuned and the chords and lyrics' are prepared. I welcome the audience in English and then in Thai. Stunning, I even can see some Europeans in the crowd.
And then we begin to play. To 'warm up' we first play the song "Photograph" by Ed Sheeran. Next, we perform our warmly loved "Stalker Song" ("Every Breath You Take"). This particular sing is for me the hardest to sing. But this time, everything went perfect, without voice cracks or instrumental failures. More or less the easiest song for all of us is "Bailando". It is sung completely in Spanish, I only sing the echoes of Kru Kim (but hey, that's fun too (Bailandoooo!)). The most magnificent song we play, where I sing large parts on my own, is "Somewhere Only We Know". A powerful duet between Kim and me is my favourite part. In the end, the audience claps and cheers and we tell them a big Kôb Khun Krap.
The show's now over but when leaving the stage we feel relieved and at the same time proud of ourselves. The feeling is hard to describe. After the enormous rush of adrenalin on stage I still feel like on it. And like every Saturday I am looking forward for our next gig.
But wait… How come I am standing on a stage and having fun playing music with my fellow volunteers? The answer's simple: Kru Kim the music teacher. He had the thought to form a volunteer band for a long time. And then he has met us. But there was a major problem. Only him (the E-Guitar), Lucie (the guitar) and Nik (on the keyboard) could play an instrument. So he decided by short or long he has to teach the others how to do. He taught Anna how to play the guitar, Marie the bass and Lina the drums. In my opinion, I think that's great and brave. And yes, of course. He introduced me to singing, that I can dare myself to sing aloud and how to sing with a microphone in hand.
Let's say our band is complete. Jan (who once played the keyboard) invented the band name "Impossible Band". He could not imagine that he and the others could master their instruments. And he's all right. It is hard to believe that most of us started playing their instrument just five months ago and we now can play so well and fluently on stage. Of course, when we practise before the gigs we still make mistakes, but to "big bands" this isn't a big issue either.
In the end, I would like to tell Kim a big thank you. He spent a lot of his late evenings practising with us and he did not put his faith in us down. The motivation in his "free time project" is incredible and I highly appreciate it. Recently, he told us that he wants to drive with us to a studio in Phuket where we would record our songs. We also plan to write our own song. Kim has already composed a melody (which sounds fantastic). It is now up to us to write about our time here with him in the lyrics. I would never have dreamed to do such amazing things during my voluntary service and I am happy to have encountered all of you.
Thank you all! Thank you Kim!🤗🙋🏻‍♂️